One of the best ways to experience a country is through its food. When Culinary Backstreets invited me on a food tour of my hometown Athens I immediately jumped at the opportunity. I am a fan of Greek food but on the other hand, I was curious to see which places we were about to visit. Did they worth it or were they just tourist traps? I am happy to say that my hopes were met.
Check out: What to eat in Greece, best food to try.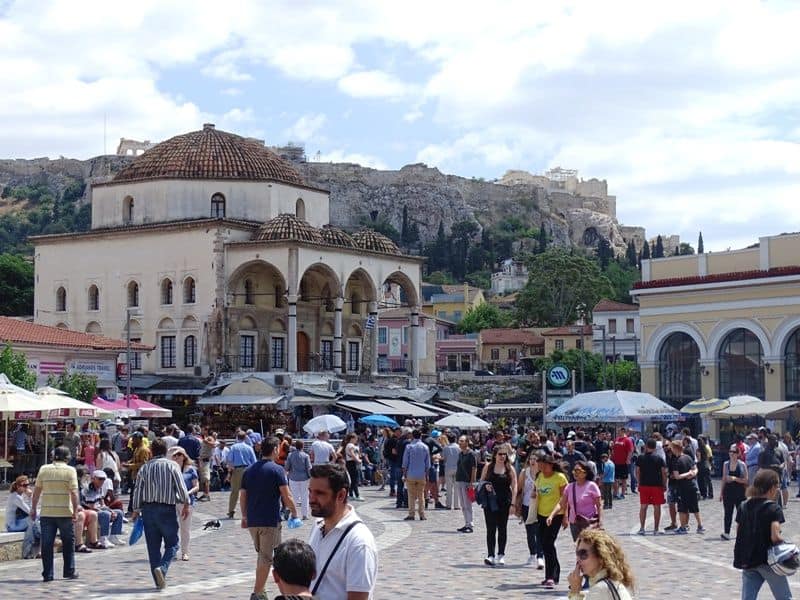 So let me tell you about the Moveable Sunday feast that I experienced. I met my guide, Carolina, early on a Sunday morning in buzzing Monastiraki square. Carolina lives in Athens and is a chef, the perfect guide for a food tour.
We were eight people in the group including myself and after the proper introductions, we walked towards the neighborhood of Psyri. There we tasted freshly baked koulouri and other Greek pastries. This bakery makes the best Koulouri in Athens and also supplies most of the city's vendors. I buy it every morning outside the metro station on my way to work.
We then ventured out to the streets of Monastiraki to visit the Sunday flea market and have breakfast and Greek coffee. Our guide explained to us how Greek coffee is traditionally made and then we had Greek yogurt accompanied by various toppings. They were all very delicious, but I particularly liked the one with hosaf which is a traditional recipe from Pontos and it is made of dried fruit and spices.
We then headed towards the oldest and more beautiful neighborhoods of Athens, Plaka. We strolled through its narrow streets and saw many places of interest like the Roman Agora, Ancient Agora with the temple of Hephaistus and the Stoa of Attalus before going for some mezes in one of my favorite shops in Plaka (not yet discovered by tourists).
There, under the foothills of the Acropolis, we enjoyed tsipouro which is a strong distilled spirit containing 40 – 45 % of alcohol and is made by pomace. We accompanied with sausage, feta wrapped in pastry with honey and other delicacies.
On our way to the next stop, our guide showed us a couple of lovely cafes and bars in the area that are difficult to spot if you are not a local. These places are well hidden and are among my favorite places for a drink and coffee in Athens.
Our next stop was a family taverna in Thissio, which serves one of the best lamb chops in Athens. That was the only place of the whole tour that I haven't been, and I am happy to discover it. When I told my friends about it days later, they were all surprised that I didn't know the place as it serves the best lamb chops. Again this taverna its only known to locals.
We then made our way to Psyri passing from the archaeological site of Kerameikos and other interesting sites along the way. We stopped in a lovely taverna that serves traditional Greek cuisine, and we tasted among others dolmadakia and fava. There we had the chance to taste Greek beer from small producers.
By that time I was so full, but there is always space for dessert right? We stopped for traditional Greek ice cream in my favorite place in downtown Athens. That was the perfect end to a beautiful day.
I was very impressed with this tour. First of all our guide, Carolina was very knowledgeable not only about the food but about the history of Athens as well. We even got to visit two churches where she explained a few things to us.
The group size was perfect, and we all felt like a big company of friends. During the tour, we got the chance to chat and know each other better. The places we visited were all with quality food and places mostly locals go.
I knew most of them as they are the same as I visit with my friends. I believe that this way someone visiting Athens will get the real essence of its food scene. I have seen a lot of tours that visit all the tourist places that I as a local wouldn't go to, not because there are tourists but because of the quality of the food. Our guide also provided us with a lot of information about places worth seeing and eating, so I suggest that you don't leave the tour for your last day in Athens.
If you are coming to Athens and you are a food lover I totally recommend that you book a food tour with Culinary Backstreets.
Check here the Tripadvisor Reviews
I was a guest of Culinary Backstreets but as always opinions are my own.
Check out more content on Athens here:

Where to stay in Athens

What to do in Athens

Great day trip ideas from Athens

10 days in Greece