Planning to spend 10 days in Greece? Are you looking for the perfect 10-day Greece itinerary?
In this post, I have prepared for you the perfect Greece itinerary for first-time visitors that includes exploring the archaeological wonders and vibrant life of Athens, a visit to the volcanic island of Santorini, and spending some more days on another Greek island of your choice and all these in just ten days.
10 days in Greece are not enough, but with this itinerary, you will get a good taste of what my country has to offer.
Disclaimer: This post contains affiliate links. This means that should you click on certain links, and then subsequently purchase a product, I will receive a small commission.
10-Day Greece Itinerary for First-Timers
Day 1- 2: Athens
Day 3: Day trip from Athens
Day 4-6: Santorini
Day 7-9: Mykonos, or Paros, or Naxos
Day 10: return home
10 Days in Greece: Day 1 Athens
To start your 10 days in Greece, you will be landing at Athens International Airport, located 30 km away from the city center.
How to get to and from the airport
In order to get to the city center, you have the following options

By Bus: You can take the 24-hour express bus X95 to Syntagma Square (the main square in Athens) / it costs 5,50 euros/traveling time is 60 min depending on the traffic.

By Metro: Line 3 runs every 30 minutes from around 6: 30 am to 23:30 pm/it costs 10 euros/ traveling time 40 min.

By Taxi: You will find a taxi stand outside of the arrivals/ cost: (05:00-24:00):40 €, (24:00-05:00):55 €, traveling time 30 to 40 min depending on traffic.

By Welcome Pick-Ups: Book your private transfer online and have your driver waiting for you at the airport/cost (05:00-24:00) 47€, (24:00-05:00):59 € / traveling time 30 to 40 minutes depending on traffic. For more information and to book your private transfer, check here.
Where to stay in Athens
Herodion Hotel: Nestled at the foot of the iconic Acropolis, Herodion Hotel is an elegant and classic hotel, that offers lots of amenities, including private balconies with incredible views, a rooftop terrace, and a wonderful restaurant.

The Zillers Boutique Hotel: A Boutique Hotel situated just 200 yards from the charming Adrianou Street and is just a stone's throw away from Roman Agora. Each room is incredibly beautiful, and the service is of an exceptionally high standard.

Attalos: A budget-friendly hotel 100 m away from Monastiraki Square in the heart of Athens. It offers air-conditioned rooms with soundproof windows and a satellite TV.

Inn Athens: It is situated just a stone's throw away from the vibrant Syntagma Square. With individually designed rooms, this is an incredibly stylish hotel and an ideal location, perfect for exploring the wonders of the city.
For more information, check my post on where to stay in Athens – the best areas.
After you settle in your hotel it is time to explore the city and you can do that on foot as the historic center of Athens is very compact. Here are some things to check out on your first day.
Change of the guards in Syntagma Square: The ceremony takes place every hour on the hour.
National Gardens: Covering over 160,000 square meters and housing over 500 different types of plants and trees, the National Gardens of Athens are a tranquil haven away from the hustle and bustle of the city.
Panathenaic Stadium: The only stadium in the world made entirely of marble. It was also the venue of the opening and closing ceremonies of the first modern Olympics in 1896.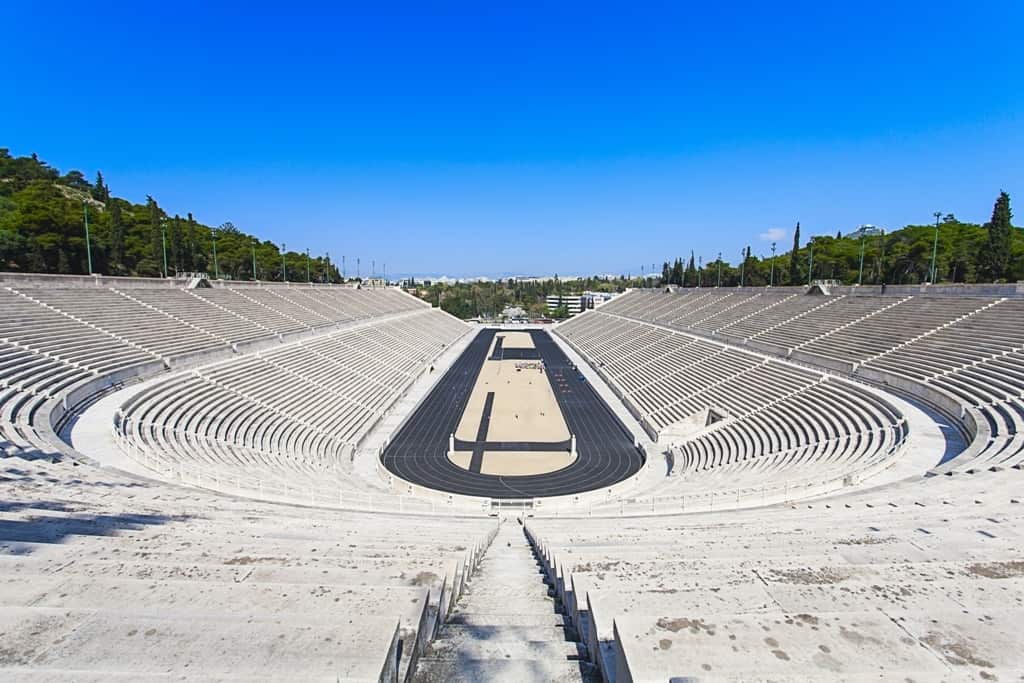 Hadrian's Arch: Standing tall and triumphant, Hadrian's Arch is just a stone's throw away from the Acropolis and the temple of Olympian Zeus, and was originally constructed in 131 BC to celebrate the arrival of Hadrian, the Roman Emperor.
Temple of Olympian Zeus: Also known as the Olympieion, the Temple of Olympian Zeus was completed by the Roman Emperor Hadrian in 131 CE after construction began in 174 BCE.
National Archaeological Museum: Renowned for being the most significant archaeological museum in Greece, the National Archaeological Museum in Athens houses an enormous collection of objects and artifacts of immense historical, cultural, and artistic importance.
Watch the sunset from Lycabettus Hill: Standing at 277 meters and towering above the city of Athens, Lycabettus Hill offers unbeatable and sweeping views. It is the perfect spot to watch the sunset from, as you can see for miles.
You might also like my detailed 3-day Athens itinerary.
10 Days in Greece: Day 2 Athens
On your second day in Athens, I suggest you start early and visit the following:
The Acropolis: Perhaps one of the most iconic landmarks in Athens, and one of the most popular tourist hotspots, the Acropolis is an enormous ancient citadel that sits atop a rocky outcrop, and towers above the city. It can be very busy, so it is advisable to head here first thing in the morning before the crowds and the heat arrive.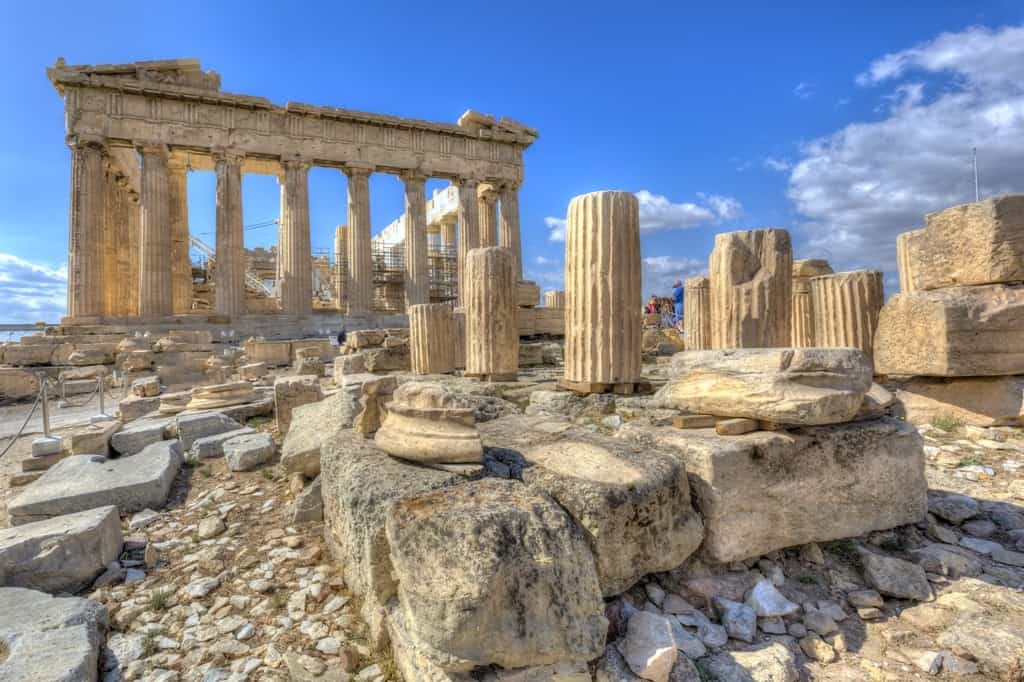 Tickets: There is a special ticket package for visiting most of the ancient Athens monuments costing 30 € full and 15 € reduced which is valid for the Acropolis of Athens, Ancient Agora of Athens, Archaeological Museum of Kerameikos, Hadrian's Library, Kerameikos, Museum of the Ancient Agora, North slope of Acropolis, Temple of Olympian Zeus, Roman Agora of Athens, South Slope of Acropolis. The ticket is valid for 5 days.

If you just want to visit the Parthenon, tickets cost 20 EUR from April 1st to October 30th and 10 EUR from November 1st to March 31st. You can buy Acropolis tickets online ahead of time at the official e-ticketing service of the Hellenic Ministry of Culture and Sports.

The crowds are huge between April and October at the Acropolis. If you want to beat them I recommend that you visit the Acropolis at the opening time (8:00 am). If you are interested in a guided tour I recommend this No-Crowds Acropolis Tour & Skip the Line Acropolis Museum Tour by the company Take Walks which gets you in the Acropolis for the first viewing of the day. This way not only do you beat the crowds but the heat as well. It also includes a skip-the-line tour of the Acropolis Museum.
The Acropolis Museum: After exploring the Acropolis itself, it is well worth visiting the Acropolis Museum to learn more about the objects and artifacts found on the site during restorations and excavations.
Plaka neighborhood: The historical neighborhood of Plaka is nestled around the northern and eastern slopes of the Acropolis and is a hub of social and cultural activity.
Ancient Agora: Situated in the heart of Athens, the Ancient Agora was historically used either as an assembly, commercial, or residential area, and it is a great place to explore.
Monastiraki Flea Market and Square: A great place to do some souvenir shopping and hit one of Athens's rooftop cafes.
Visit Athens Central Market: Open every day apart from Sunday, Athens Central Market is brimming with local vendors selling delicious, bright, flavourful, and colorful delicacies.
Climb Filoppapos Hill for the sunset: Enjoy the best views over the Acropolis and Athens.
Drinks in Thissio or Psiri District: There are so many wonderful districts in Athens for evening drinks, but perhaps the best is Thissio in the downtown area, or Psiri, which is in the heart of the city.
Interested in more must-see things in Athens? Check out my post best things to Do in Athens.
10 Days in Greece: Day 3 Day Trip from Athens
On the third day of your 10-day Greece itinerary, you have the option to explore a bit of the mainland or a few nearby islands.
For more information, check: The best day trips from Athens and
Islands close to Athens.
10 Days in Greece – Days 4, 5, and 6 Santorini
How to get from Athens to Santorini
By air: I totally recommend that you take the plane from Athens to Santorini. The flight time is about 40 minutes, and if you book in advance, you can find some great deals.

By ferry: The regular ferry takes between 8 to 10 hours to reach Santorini. Alternatively, you can take the fast ferry that takes around 5 hours—not recommended if you get seasick easily.

Check Ferryhopper for the ferry schedule and to book your ferry tickets.
Spend three days from your 10-day Greece itinerary exploring the beauties of Santorini island.
For detailed information, check out my post: 3 days in Santorini itinerary.
Archaeological Site of Akrotiri: Dating back to the Early Bronze Age, Akrotiri is one of the most important prehistoric settlements situated in the Aegean. Today, it is possible to explore the ruins of this fantastic and fascinating site, and it is well worth the visit.
Visit Pyrgos Village: Head over to Pyrgos, a little village at the top of the hill, offering sweeping vistas of the entire island above. Currently inhabited by about 800 people, this was the previous capital of the island, and therefore, you'll find medieval houses stacked on top of each other, with beautiful churches and a castle.
Explore Emporio Village: The biggest village in Santorini, with beautiful, unique streets, churches, and one of the five medieval castles in Santorini. You'll find beautiful houses stacked really close together, eccentric winding staircases, overhead bridges, and picturesque streets!
Hike from Fira to Oia: If you are a keen hiker, one of the best routes to do is to hike from Hira to Oia. Along the way, you will see some of the most impressive sweeping views of the sea, as well as the gorgeous towns of Fira and Oia, which are truly exquisite.
Watch the sunset in Oia: One of the most unforgettable things you can do in Oia is to watch the sunset. With enormous open skies, beautiful white-washed buildings lining the cliff edges, and the most gorgeous pink-hue lights, this is truly a memorable experience.
Go wine tasting: Wine-making in Santorini dates back 3,000 years, and so you'll find different types of wine – from Assyrtiko, Athiri, and Aidani and you can go on a tour to two or three different wineries where you'll be able to taste the best wine of Santorini. This will all be complemented by cheese, salami, and Greek olives.

The Santorini Half-Day Wine Adventure tour is the perfect tour that will allow you to visit the wineries and taste the best Volcanic wine.
Explore one of the many beaches: What's a Greek vacation without an abundant amount of time spent lazing by the beach and enjoying the sun's warmth as it engulfs you?

The Red Beach is not only one of the most famous beaches in Santorini but also one of the most beautiful, with a unique landscape of red and black volcanic rocks contrasting with the blue waters of the sea. It's only minutes away from Akrotiri!

Perissa Beach features unique black sand juxtaposed with crystal clear waters, making your beach experience unlike any other you've had in your life. You'll have a massive rock called Mesa Vouno soaring from the sea and is usually the main attraction of the place
Check out the local food: Santorini has incredible food, and Greece is known for the wonderful gastronomic experience that it offers. Definitely try Fava, the most famous dish in Santorini, which is a yellow split pea puree, or Ntomatokeftedes, which are Greek tomatoes served with hot olive oil and peppers, onions, and mint.
You might also want to check out: The best things to Do in Santorini.
Where to stay in Santorini
Astarte Suites Located in Akrotiri, this romantic all-suite hotel is situated on a clifftop and enjoys breathtaking scenic views. Its spacious and modern rooms feature free Wi-Fi, flat-screen TVs, minibars, and whirlpool tubs A complimentary breakfast can be served in-room, while an infinity pool, a bar, and an elegant restaurant are included in its amenities. – Check out the latest prices and more details here.

Canaves Oia Built on the side of a cliff in Oia, the room amenities include Wi-Fi, flat-screen TVs with DVD players, minibars, tea and coffee-making facilities, and balconies overlooking the blue. Free breakfast and parking are available for all guests, as well as access to an infinity pool, restaurant, bar, gym, and open-air spa. – Check out the latest prices and more details here.
10 Days in Greece itinerary: Day 7, 8, and 9 Mykonos, Paros, or Naxos
Depending on your interests, you can spend the next 3 days exploring one of the following Greek islands. The choice is yours!
Mykonos is great for Nightlife, beach parties, shopping, and gourmet dining, but expensive.

Paros is great for Beaches, nightlife, beach parties, and great food, and it is less expensive than Mykonos.

Naxos is great for Beaches, watersports, beautiful villages, archaeological sites, good food, relaxing; less expensive than Mykonos more authentic Greek holiday.
You might be interested in: Paros or Naxos. Which one to visit?
How to get from Santorini to Mykonos, Paros, or Naxos.
Santorini is well connected to the nearby islands by ferry during the high season.

From Santorini to Mykonos, you can take either the high-speed ferry (2 hours) or the conventional ferry (3 hours)

From Santorini to Paros, you can take either the high-speed ferry (2 hours) or the conventional ferry (3 to 4 hours)

From Santorini to Naxos, you can take either the high-speed ferry (1 h and 3 min ) or the conventional ferry (2 to 4 hours), depending on the itinerary.

Check Ferryhopper for the ferry schedule and to book your ferry tickets.
Option 1: Mykonos
For detailed information, check out my post: 3 days in Mykonos itinerary.
Explore the Chora of Mykonos

Little Venice: Lively, noisy, and bustling with life, Little Venice is great for the number of cafes and bars there. A lot of the places there also overlook the nearby water, and you can have incredible during sunset as you eat or drink at one of the bars.

Museums: Many people don't see themselves visiting Museums while in Mykonos, but you should definitely check out the Archeological Museum, which gives you an insight into Greece's terrain, and then head over to the Folk Museum to get first-hand knowledge of the island's culture.

The Windmills: Chora is renowned for its iconic windmills. You'll see them from almost anywhere in time, and they date back to the 1600s boasting beautiful Venetian architecture. They are a quintessential feature of the landscape of Mykonos, and the three whitewashed structures stand beautifully, giving you a reminiscent vibe of the times they were used.

Find more information on The Walking Tour of Mykonos Chora here.
Explore the beautiful beaches and beach bars: Mykonos is home to some of the most delightful beaches in the whole of Greece, so it is well worth spending a large amount of time relaxing on them. As well as the beaches, there is also an abundance of beach bars where you can sip away on a delicious cocktail and soak up the wonderful sea views.
Enjoy the nightlife: Mykonos is one of the top destinations for vibrant and exciting nightlife. With a string of incredible clubs, bars, and restaurants, the nightlife in Mykonos is fantastic.
Check out the luxury shops in town: What you may not know about Mykonos is that there is a string of fantastic luxury shops. Whether you are looking for something unique, bespoke, or handmade, there are so many gorgeous shops to explore and indulge in.
For more things to do in Mykonos, check my post: What to do in Mykonos.
Where to stay in Mykonos
Milena Hotel is located 500 meters away from Mykonos Town and close to the airport. A bus stop is next to the hotel. It offers clean rooms with air-conditioning and Wi-Fi access.

With Inn is located on the sandy beach of Tourlos, 1 km away from Mykonos port. It offers spacious rooms with a sea view, air conditioning, free Wi-Fi, and a mini-fridge.

Kouros Hotel & Suites is perfectly located 10 minutes on foot from Mykonos Town this luxurious hotel offers spacious rooms with private terraces overlooking the sea and the town. Hotel amenities include a swimming pool, amazing breakfast, free Wi-Fi, free airport shuttle, and parking. – Read my review.

Bill & Coo Suites & Lounge is a 5-star hotel that offers luxurious sea-view suites, an infinity pool, a gourmet restaurant, and spa treatments. It is conveniently located in Megali Ammos Beach and a 10- minute's walk from Mykonos Town.
For more information, check my post: Where to stay in Mykonos – the best areas.
Option 2: Paros
Part of the Cyclades group, Paros is one of the most gorgeous Greek islands to visit, and that is saying something. Renowned for being the second-largest island of the Cyclades, it is within close proximity to several other magnificent islands, making it the perfect spot to base yourself when island hopping.
Explore the beaches: Whether you prefer bustling and vibrant beaches, those perfect for water sports, or beaches that are away from it all, Paros has great beaches to suit every taste and need.
Check out Paros Park: Paros Park is an environmental and cultural park, making it fantastic for all interests. Spanning an enormous 800 acres, it is a truly natural and historical gem.
Explore Naousa: Naoussa is one of the most charming and memorable parts of Paros; lined with white-washed buildings, boats docked in the harbor, and some of the most divine seafood that you will ever try, Naoussa is truly gorgeous.
Explore Parikia: Paroikia is the capital of Paros, meaning there are so many wonderful places to explore. There is a brilliant selection of bars, restaurants, and shops, as well as an array of historic and cultural sites and landmarks.
See Lefkes village: With just 500 permanent inhabitants, Lefkes village in Paros is one of the most tranquil and gorgeous spots. With hills lined with olive and pine trees, as well as gorgeous views of the surrounding islands, this village is truly memorable.
For more information, check my post: The best things to do in Paros and my 3-day Paros itinerary.
Where to stay in Paros
Hotel Senia: With a stunning seafront location 200 m away from Naoussa Town, the hotel offers rooms with private balconies, a heated infinity seasonal pool, a hydromassage tub, and a pool bar. Click here for more information and to book this hotel.

Sunset View Hotel: Located in Parikia features a pool and a lounge snack bar serving meals. The air-conditioned rooms include a shared or private balcony or terrace and free wi-fi. Click here for more information and to book this hotel.
Option 3: Naxos
Another fantastic and gorgeous place to explore in Greece is Naxos, which is the largest island in the Cyclades. It is often renowned for being the greenest island as well as the largest, and there are an abundance of exciting things to do and places to explore.
See the sunset from the Apollo Temple, aka Portara: Otherwise known as the Great Tour, the Apollo Temple, or Portara, is an enormous marble doorway that is particularly beautiful at sunset.
Explore Naxos Chora/Town: The largely pedestrianized capital Chora is a fantastic place to visit. With gorgeous whitewashed buildings, stunning views from the castle, and narrow alleyways.
Kouros Marble Giants: If you are looking for something truly interesting, be sure to check out the Kouros Marble Giants. These large marble statues are in the shape of men, and tower incredibly high above.
Admire the temple of Demeter: The remains of the Temple of Demeter are incredibly fascinating. The origins date back to 480 and 470 BCE, and it has a long and rich history.
Explore the picturesque villages of Apeiranthos, Halki, and Filoti: Naxos is home to a number of gorgeous towns and villages. Make sure to visit Apeiranthos, which is often regarded as the crown jewel of Naxos. Halki is also stunning, particularly around the harbor. Another brilliant village is Filoti, which has a wonderful atmosphere.
Make a boat trip to Koufonisia: Koufonisil consists of two small islets in the Cyclades of Greece, and they are absolutely astonishing. It is well worth taking a boat trip to Koufonisial, as it is incredibly scenic and peaceful.
You might be interested in: The best things to Do in Naxos and my 3-day Naxos itinerary.
Where to stay in Naxos
Saint George Hotel: Situated just a stone's throw away from the sandy beach of Agios Georgios Bay, the Saint George Hotel in the main town of Naxos is the perfect place to stay for beach lovers. Click here for more information and to book your stay.

Katerina Hotel – Located on Agios Prokopios Beach, it offers a swimming pool with sun loungers and air-conditioned rooms with a private balcony. Click here for more information and to book your stay.

Xenia Hotel – Located in the heart of Naxos Town it is just a short walk away from a huge selection of shops and restaurants. The rooms are beautiful and the beach is 300 m away. Click here for more information and to book your stay.
You might also want to check out: Where to Stay in Naxos.
Tip: It is highly recommend that you return to Athens the night before your flight back home.
10 Days in Greece: Day 10 Fight back home
It is advisable to already be in Athens on the day of your flight since taking a ferry or a plane from the islands on the same day can be risky. There are strikes, weather misfortunes, delays, repairs, and much more that might hinder your trip!
So this is how you get to see Greece's most breathtaking landscapes, learn about its history, taste its food, get lost in its islands, and immerse yourself in the Greek way of life in just 10 days. After you return home with your sun-kissed skin, salty hair, and beautiful memories, you'll think of nothing but Greece for the next few months!