Whatever your idea of a perfect beach is, Greece is sure to have it. Do you like watersports and plenty of socializing? Or family-friendly waters and complete facilities? Or maybe you have a sense of adventure and are looking for a secret, hard-to-reach cove. This list of the best beaches on the Greek Islands includes some rare geological wonders, some wildly popular stretches of silken sand, and some remote, secluded gems. Here's a list to get you started on finding your dream beach.
25 Beaches in the Greek Islands You Must Visit
Myrtos is not only one of the most famous beaches of Greece but also ranks among the finest in the world. The approach is dramatic, along a winding road down a mountain. This stunningly white beach with its turquoise waters is sheltered by steep cliffs.
Check out the best beaches in Kefalonia.
2. Navagio, Zante
A secret cove hides one of Greece's dreamiest beaches. It's named "shipwreck" for the boat that washed up here in 1980, an amazing site. Navagio is a reward for those with a sense of adventure- this beach can only be reached by boat!
Check out the best beaches in Zante.
This beach, in a remote western corner of Crete, is unforgettable. Is it because of the pink (yes, pink!) sands? Or perhaps it's the island that you wade to through soft warm waters? Or maybe it's the exotic flowers that cover the island- whatever the reason, Elafonissi is the favorite of all who have been there.
Check out the best beaches in Chania.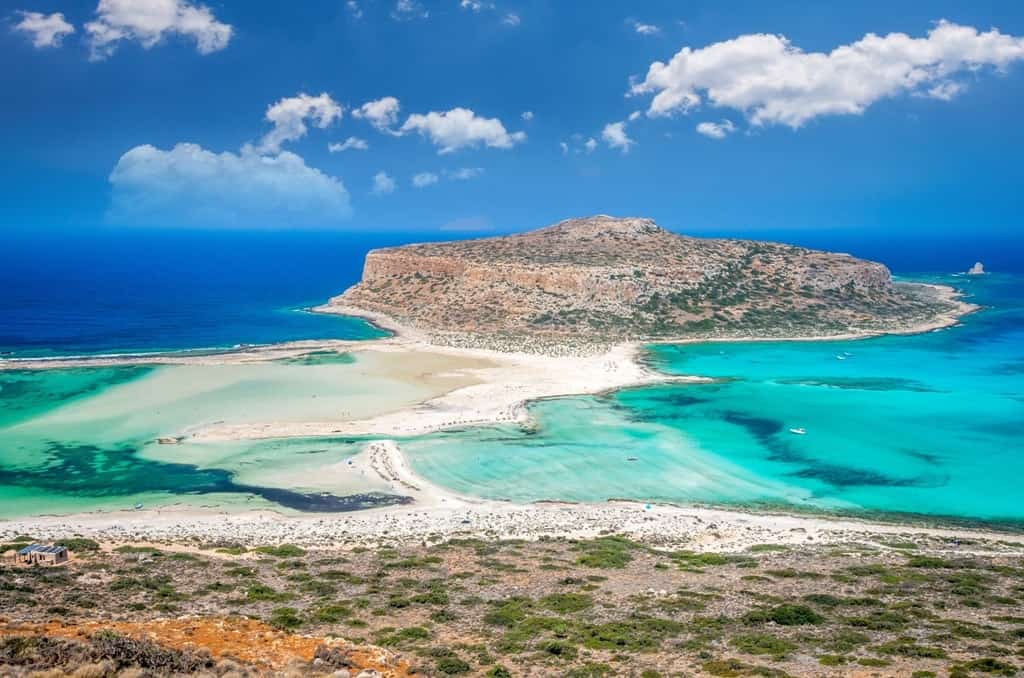 Where did Prince Charles and Princess Diana swim in Crete? From what we hear, Balos. Back then, it felt like the edge of the world, accessible only by private yacht or on foot via a hot but beautiful hike. Now you can visit this impossibly dreamy, remote lagoon on a day excursion by boat.
5. Vai, Crete (Lasithi)
Uniquely beautiful, Vai is famous for its forest of palm trees- Europe's largest! Its waters have been awarded a blue flag. With the palms and the golden sand, it looks more like the tropics than Europe.Vai is truly an exotic sight.
Check out the best beaches in Crete.
6. Mylopotas, Ios
This sociable beach is one of Greece's liveliest and most youthful islands. Mylopotas offers a perfect combination: there are water sports, a very famous beach bar, and plenty of natural beauty.
Check out the best beaches in Ios.
7. Paleokastritsa, Corfu
In the northwest corner of the elite and famously lush island Corfu, Paleokastritsa is not one beach but a series of strips of sand and hidden coves. Explore them by boat- your own or even a water taxi- available on the main beach.
Check out the best Corfu beaches.
8. Stafylos Beach, Skopelos
On beautiful green Skopelos, this pebbled, family-friendly beach 5 km southeast of Skopelos' main town is surrounded by cliffs for added drama. The waters are thought to be extraordinary.
Check out the best beaches in Skopelos.
9. Koukounaries Beach, Skiathos
The name is promising- 'Koukounari' means 'pine cone' in Greek. The sweet shade of umbrella pines shelters the edge of this long sweeping curve of golden sands and gorgeous blue flag waters.
Check out the best beaches in Skiathos.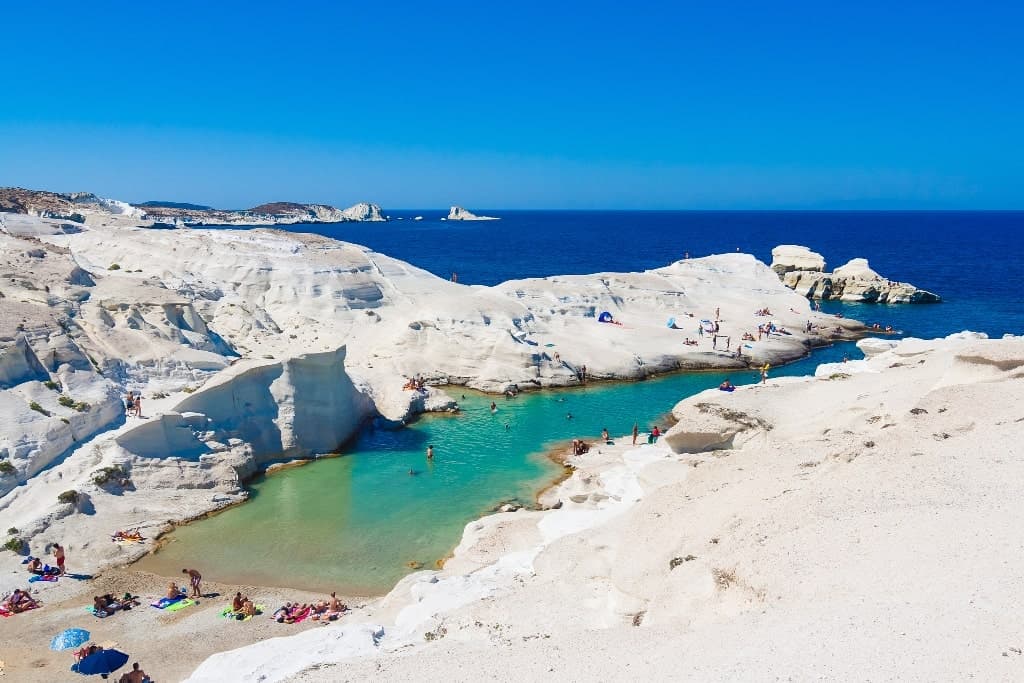 Milos is famous for having a variety of beaches so splendid that visitors say each one is lovelier than the last. Yet Sarakinikostands out-surrounded by white volcanic rock that has been shaped by waves and wind, it's one of the most photographed spots on the island.
Check out the best beaches in Milos.
11. Firiplaka, Milos
On the south coast, this narrow, sandy, and pebbly beach is partly organized with umbrellas, sunbeds, and a beach bar. A favorite among visitors, Firiplaka has stunning volcanic cliffs painted in yellows, pinks, and whites, providing a unique backdrop to the shallow green-blue water. There is a car park at the top of the cliffs, so make sure you take in the amazing view before you descend onto the shore.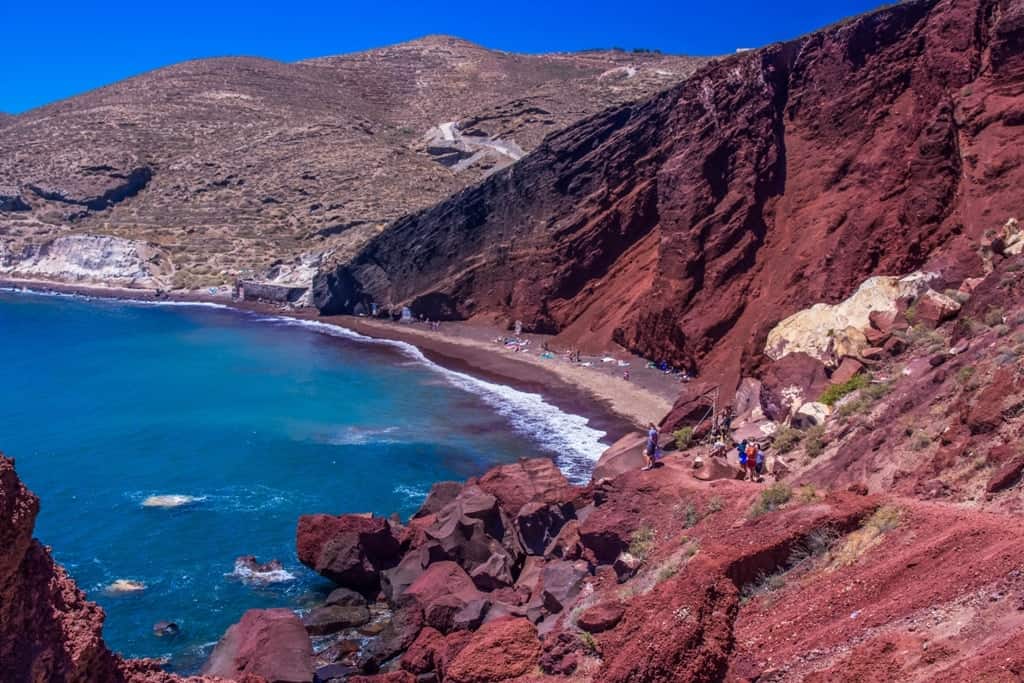 One of Greece's most dramatic islands has a beach with drama to match. With sands and cliffs made of red and black volcanic rock, it's captivatingly beautiful. The beach, near Akrotiri village, is prone to landslides- check with local authorities about accessibility.
Check out the best beaches in Santorini.
13. Erimitis Beach, Paxos
Would you like to visit a new beach? Not new as in newly fashionable, but new as in freshly created, by a landslide in 2008! 'Erimitis' means 'hermit' in Greek, and the name suits this secluded natural wonder, sheltered by towering cliffs.
14. Kathisma, Lefkada
The Ionian Island Lefkada has several well-known beaches. Fabulous Kathisma is very close to the village Agios Nikitas, making it easy to reach but busy- part of its charm if you like a social beach. The white sands and waters of an astonishing shade of blue will delight you.
Check out the best beaches in Lefkada.
15. Porto Katsiki, Lefkada
The road to Porto Katsiki, one of Lefkada's most famous beaches, is winding and beautiful, descending steeply to this remote and secluded beach. Tall white cliffs provide plenty of drama, and the swimming is magnificent- you can even explore caves in the water.
16. Voutoumi, Antipaxos
Voutoumi is Internationally praised- The Telegraph listed it as one of the best unsung holiday destinations in Europe, while Lonely Planet has this, conversely, as one of the top 10 beaches in Europe. The beach offers a change in texture- smooth pearly white pebbles rather than sand edge its pristine waters.
17. Pori, Koufonisia
Tiny Koufonisia is a delight for anyone looking for natural beauty in a quiet setting. There are few cars and the island is easily covered on foot. Its beaches are pristine, among them lovely Pori, with its golden sands and waters an astonishing color, mainly wild with just a couple of tavernas. At a half kilometre long, no matter how many people come they say it's never truly crowded.
18. Agios Prokopios, Naxos
Organized, with sunbeds and umbrellas, this golden beach of Naxos has pure blue flag quality waters. This lively beach, with café bars and a lively atmosphere, attracts a vibrant young crowd.
Check out the best beaches in Naxos.
19. Kolimbithres, Paros
Gorgeous Kolimbithres, one of the island's most popular beaches, means 'swimming pools', which makes sense: it's actually a series of small tiny coves, some with facilities, and some wild. Kolimbithres is also marked by an exotic feature- white granite sculpted by centuries of waves and wind.
Check out the best beaches in Paros.
20. Platis Gialos, Mykonos
One of Greece's most famous islands, this glamorous Cycladic gem has a beach for every taste. One of the most popular is the sociable PlatisGialos, a fully organized beach, great for watersports and popular with families and young couples.
Check out the best beaches in Mykonos.
21. Anthony Quinn, Rhodes
You're probably thinking there must be a story behind this name. There is- Anthony Quinn filmed part of 'The Guns of Navarone' here, helping put Rhodes on the map of international tourist destinations. This is an unusual destination- natural stone surfaces take the place of sand at this elemental 'beach'- perfect for basking in the sun after enjoying the crisp cool waters.
Check out the best beaches in Rhodes.
22. St Paul's Bay, Rhodes
And another beach with a story! It's thought that St. Paul came ashore here in 51 AD, to preach Christianity to the Rhodians. Two beaches are on this lovely nearly completely enclosed bay, one of sand, and one of sand and small pebbles.
23. Seychelles, Ikaria
This secluded cove with jewel-toned waters is surrounded by fascinating rock formations and the adjacent cove features a cave. Reach Seychelles by organized day trips from Armenistis or Agios Kirikos, or- more excitingly- by a hike from the main road that grows steeper as you near the beach.
24. Kedros, Donousa
Tiny and charming Donousa is one of the lesser-known of the Cycladic Islands, truly a find.Kedros, reached by a steep path from Stavros or by boat or bus, is thought to be its loveliest beach, with its golden sands and turquoise sea. Kedros is also popular with nudists.
Check out the best things to do in Donousa.
25. Apella Beach, Karpathos
One of the loveliest of the Dodecanese Islands, Karpathos is known for its fantastic beaches. Wild and remote Apella beach, a cove without facilities and best reached by boat, rewards the adventurous with its white sands and crystal clear waters.
Whatever beach you choose, you're sure to have an unforgettable day enjoying some of the world's most beautiful destinations. Have fun! (And don't forget sunscreen).
Best Sandy Beaches in Greece

Best Greek Islands for Beaches

Best Greek Islands for Couples

Best Greek Islands for your Honeymoon

Best Party Places in Greece.

Best Greek Islands for Families.

Best Quiet Greek Islands

Best Greek Islands to Visit in September

Best Greek Islands to Visit in October

Best Time to Visit Greece.