Greece's glorious beaches are regularly rated as the top beaches in the world. There is something for every taste, from the wild and rugged to the fully serviced and groomed. One thing most people look for in their ideal beach though is beautiful soft sand. From sparkling white to pearly grey, shimmering gold, and even blush pink, there's an ideal sandy beach for everyone in Greece. Here are some of our absolute favorites:
Greece's Best Sandy Beaches to Explore
At Southwestern Crete's edge is a beach world-famous for a beautiful feature: its sands are actually a gorgeous pink (!), thanks to the crushed shells coloring the sand. It's not just a beach, but an island that you can wade across to through shallow warm waters.
This whole area is protected by the Natura 2000 network: the island's dunes are covered with gorgeous sea daffodils and other lovely flora. Sunbeds can be rented and there are cantinas with refreshments.
Check out: The best beaches in Chania.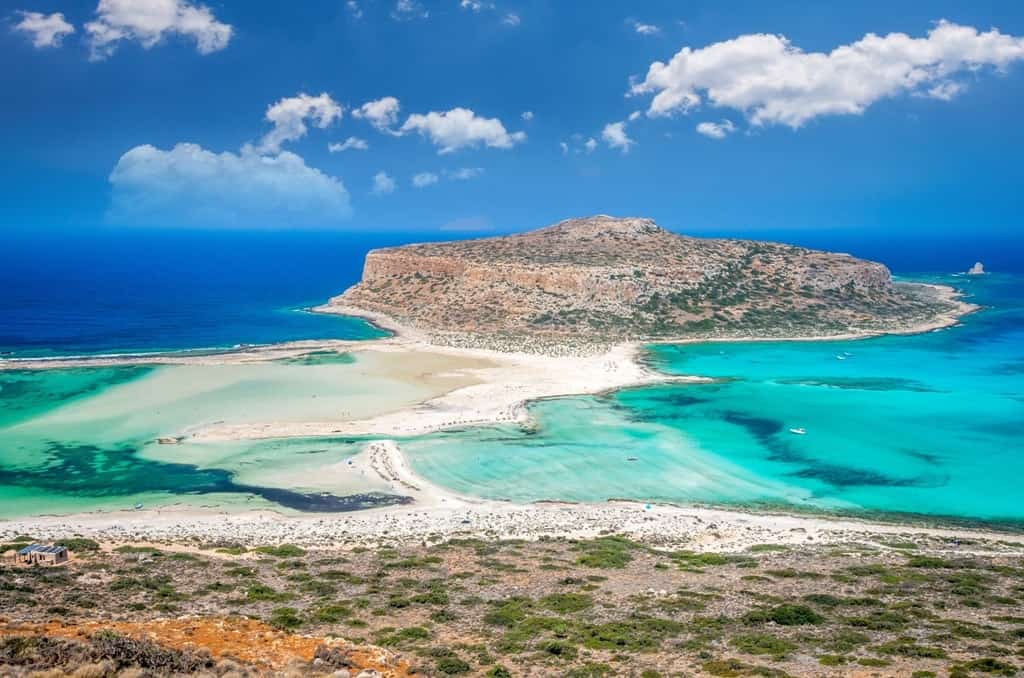 Near Elafonisi between two capes in the northwest of Crete is one of the island's most photographed beaches. Balos is a lagoon, with sand so brightly white it intensifies the turquoise of the waters. The area also has some pink sands, like Elafonisi, and is also protected by the Natura 200 network. Species making their homes here include the monk seal and the Caretta Caretta turtle. The beach can be visited by ferry or on foot.
Check out: The best beaches in Crete.
3. Tsambika Beach Rhodes
The Church of Panagia Tsambika looks over this splendid beach from the northern end. It's not only a lovely church but also a protector of the area's natural beauty: the Orthodox Church owns much of the surrounding land, keeping the area near the soft sands and crystalline waters unspoiled. The beach itself is not completely wild- loungers, umbrellas, canteens, and also facilities for watersports make for a comfortable and fun stay.
Check out: The best beaches in Rhodes.
A deeply curved cove is so symmetrical it looks like an 'Omega' forms this secluded beach. The sands are pure and soft, the water gorgeous, and the beach protected from the breeze by dunes. There's plenty to see nearby: from the beach, a path leads to the lagoon of Gialova, an important wetland and haven for birds (and a Natura 2000 site). There is also a Frankish castle and the cave of King Nestor above. Voidokilia is just 12 km from Pylos, near Navarino bay.
5. Simos Beach, Elafonisos
On the island of Elafonisos, white dunes and a long strip of silky sands divide the twin beaches of Simos– Megalos (large) and Mikros (small). This full-service beach features sunbeds, umbrellas, beach bars, and a couple of nearby tavernas. There's even camping just 50 meters away. When the winds pick up, there's also good windsurfing.
6. Stafilos Beach, Skopelos
One of the most popular beaches of Skopelos, a lovely green gem of an island in the Sporades, is Stafilos. It takes its name from the Minoan King Staphylus whose ships supposedly used this cove. The soft gray sands edge clear waters, and the beach is full service with loungers and umbrellas and cold drinks in one area, with another area natural for those who prefer a more wild experience. The beach, just 4 km from the main town, can be reached by bus and then a half kilometer walk.
Check out the best Skopelos Beaches.
7. Koukounaries, Skiathos
What could be nicer than being on a strip of silky sand, turquoise waters, and the sweetly scented shade of pine trees? This full-service beach has sunbeds and umbrellas and watersports facilities, as well as tavernas for food, drinks, and snacks. The beach can be very busy, especially in high season, but is well organized.
Check out: Best Beaches in Skiathos, Greece.
8. Agios Prokopios, Naxos
This fully developed beach with all-day beach bars is popular for its soft sands and turquoise waters. Just over 5 km from Naxos town, it can be reached on foot or by public transportation (perhaps a better choice than driving given how popular it is). It's a great beach for people who want excitement and activity. For those who seek natural beauty but without so much action, the northern section is quieter (and sometimes nudist-friendly).
You might want to check out the post: The best beaches in Naxos.
9. Golden Beach, Paros
At 700 meters long, this is one magnificent stretch of beach. Its fine golden sand literally sparkles in the sunshine, and the water is splendid. This is a great beach for windsurfing; in fact, each August, it hosts the Professional Windsurfing World Cup! Even if you're not yet a professional windsurfer, you can still enjoy the sport- there are many organized facilities.
Check out: Best Paros Beaches.
10. Fyriplaka, Milos
The volcanic island of Milos, the southernmost of the Cycladic Islands, is famous for its gorgeous beaches. Amid this stiff competition, Fyriplaka, sheltered by glorious towering cliffs, is one of the island's most popular beaches, owing to its soft pale gray sands, pure waters, and dramatic setting. Rocks jutting out of the sea and a stunning rock formation add extra drama and delight.
You might be interested in: The best beaches in Milos.
The silky sands of Mylopotas have something for everyone- undeveloped areas for those who like their beaches wild, umbrellas and sunbeds for those who like it comfortable, and platy of watersports for those who want a more active experience, and the Far Out Club, for those who have not yet had their fill of nighttime fun: Ios has a well-earned reputation as a great party island.
Check out the best Ios beaches.
12. Platis Gialos, Mykonos
This most famous Greek island has beaches of every character suited to every taste. The longest and loveliest among them is Platis Gialos, known for its soft golden sands. The beach is on the south side of the island, just under 5 km from the Chora (main town). Enjoy some watersports, or just take in Mykonos' famous sophisticated beachside ambiance.
You might want to check out: The best beaches in Mykonos.
13. Paleokastritsa, Corfu
Lush Corfu in the Ionian Sea has many beautiful spots. Paleokastritsa is on its northwestern coast, 25 km from Corfu town, and well worth the trip. There's plenty to do here- watersports, canoes, and motorboats for rent, as well as sunbeds and beach bars. The many surrounding coves make for superb snorkeling. Boat taxis are often available for exploring the nearby remote beaches. The crystalline waters are deep and the temperatures more bracing than at many other famous Greek beaches-refreshing after basking in the sun!
Check out: The best beaches in Corfu.
14. Kathisma Beach, Lefkada
Lefkada is a lush Ionian island known for its pristine beaches. Kathisma Beach is one of the most popular- the purity of these outstanding waters has won Kathisma Beach the Blue Flag for the past six years in a row.
A long stretch of silky bright white sands draws a mainly younger crowd, as do the many watersports- sky parachuting among them. Although Kathisma Beach is just 15 km southeast of Lefkada's main town, the beach is backed by a mountain, making it feel beautifully secluded.
You might want to check out: The best beaches in Lefkada
Silky sands appeal to everyone, and these beaches all feature excellent crystalline waters. In addition, many of them also have exciting diversions, making some of them wildly popular, and therefore crowded in the high season. This, of course, can be part of the fun! If you want a quieter experience, try going very early to get a prime spot by the waves to see the day unfold at one of these famously beautiful beaches.
Best Beaches on the Greek Islands

Best Beaches in Mainland Greece

Best Beaches in the Peloponnese