Meteora in Thessaly, Greece, is a place of immense beauty. There, nature and humans joined forces to create an unusual monastic community. Yet, any written description grows pale in the face of a visual experience. And that's why we'll skip describing this unique place and get to the point. Traveling to Meteora is possible by car, train, bus, and on a guided tour. In this article, you'll find everything you need to know to get from Athens to Meteora.
Disclaimer: This post contains affiliate links. This means that should you click on certain links, and then subsequently purchase a product, I will receive a small commission.
How to Get From Athens to Meteora Guide
How to get from Athens to Meteora by bus
To catch a bus from Athens to Meteora, you need to go to Liossion Bus Station. To get there, take metro 1 (Green line, Kiffisia direction) at the Monastiraki stop in the Athens city center. Get out at the 5th stop from there, named Kato Patissia. At this point, things grow a bit more difficult.
Liossion Bus Station is about a kilometer (0.62 miles) away from this stop. If you don't carry a lot of luggage, you can take a walk along Psaroudaki, Dagkli, and Tertipi streets. Otherwise, take a taxi, which costs no more than 5 euros.
Your next stop is Trikala, a town some 25 km (15 mi) away from Kalampaka (Meteora). Buses are available every few hours starting from 7 am. The last departure is at 9 pm every day. The trip from Athens to Trikala lasts up to 5 hours.
Once you arrive, you have to take a bus from Trikala to Kalampaka. It will take you around 30 minutes to get there. At present, a one-way bus ticket from Athens to Kalampaka costs €31.5. The price of the return ticket is €48.
Click here for the bus timetable and more information.
Traveling from Athens to Meteora by train
Traveling by train is the most popular mode of transport from Athens to the monasteries of Meteora. Hence, keep in mind to check if there is a Greek holiday at the time of your trip. If so, book your train ticket in advance to benefit from the direct journey to your final destination.
Trains for Kalampaka leave from Larissa Train Station, the main train station in Athens. To get there, take metro line 2 (Red Line) from the Syntagma stop towards Anthoupoli. Get off the metro at the Larissa Station.
Usually, there are several trains operating from Athens to Kalampaka on a daily basis. Most of them travel to Paleofarsalos, where you need to change trains. These commonly depart from Larissa Station at 7:18 am, 10:18 am, 2:18 pm, 4:16 pm, and 11:55 pm. Traveling times to Kalambaka may last between 5 and 9 hours. The duration of the journey depends on the connecting trains leaving from Paleofarsalos. Also, note that trains are less frequent on weekends.
The remaining trains travel from Athens to Kalambaka directly. This train covers the distance in the shortest time, as you would expect. It leaves Larissa Station in Athens at 8:20 am and enters the Kalambaka terminus at 1:18 pm.
Please note that delays are usual on those trains.
One-way tickets cost from €20 to €40, depending on the selected option and the class. The return ticket costs between €50 and €60 in most cases.
Click here for the timetable and more information.
Alternatively, you can book a day trip from Athens to Kalampaka by train that includes, the train tickets pick up and drop off from the train station in Kalampaka and a guided tour of the monasteries.
Click here for more information and to book the tour.
There is also a better option of a two-day Meteora trip by train that includes the train tickets, one-night accommodation in Kalampaka, pick up and drop off from the train station in Kalampaka, and two guided tours of the monasteries.
Click here for more information and to book the tour.
Getting from Athens to Meteora Monasteries by car
Traveling from the capital of Greece to Meteora by car is a scenic experience. Yet, utmost caution is necessary at some sections along the way. From Athens, you need to take the E75 highway (Athinon- Lamias) in the northern direction. Once you reach Lamia, leave E75 and follow signs to Karditsa, Trikala, and finally Kalabaka. Once you are in Kalabaka, the Monasteries of Meteora is a short drive away.
Starting the journey early would be best before heavy traffic overwhelms Athens. Otherwise, getting out of the city can be pretty slow and frustrating. Lamia is about 200 km/125 miles away. So, you should reach the town in about 2 hours once you are out of the metropolis.
When you leave the highway at the Lamia junction, you start driving on a rural road. This means that you have only one line per direction. Next, the way leads you up and down over Domokos mountain range. Furthermore, there will be many turns, so pay attention while driving. The distance from Lamia to Trikala is less than 120 km/75 miles. Finally, 20 km/12 miles separates Kalambaka and Meteora from Trikala.
Of course, there are other alternatives for traveling between Athens and Meteora. But this one is the most straightforward.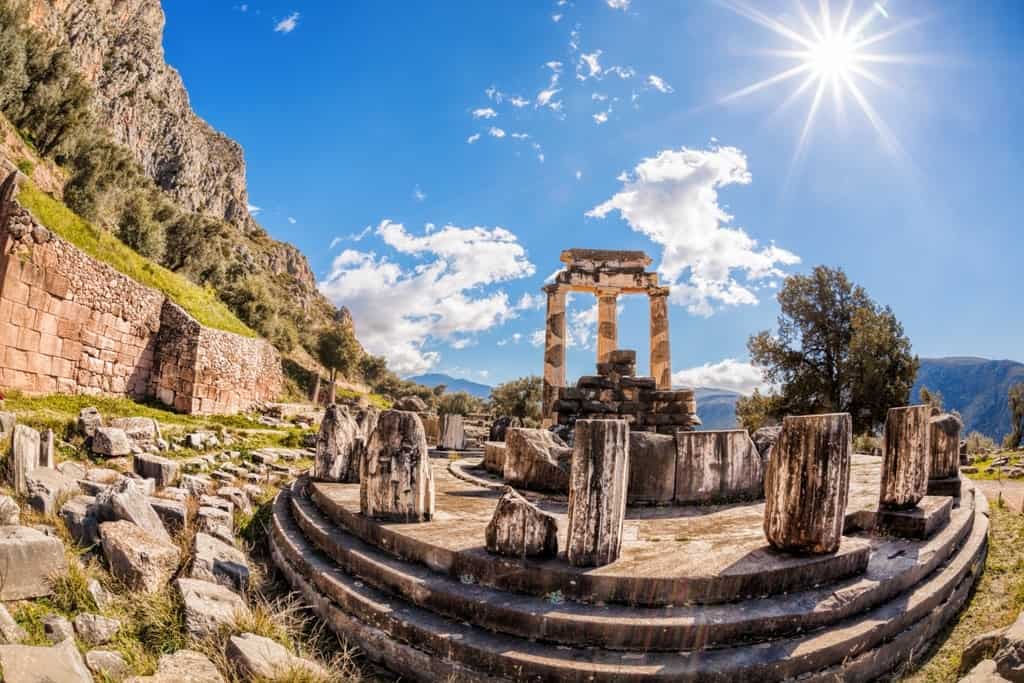 Visit Delphi on your trip from Athens to Meteora
An alternative way to see the monasteries of Meteora is by joining a 2-day tour that also includes the archaeological site of Delphi. Not only you will see one of the most important Orthodox monastic communities, but you will visit a few historic sites. Ancient Delphi was the site where the famous oracle resided during the era of ancient Greece. And her prophecies proved stunningly accurate. For example, the advice the Oracle Pythia offered to the Greeks enabled them to defeat the Persians after the battle of Thermopylae.
The tour continues to Meteora where you will spend the night beneath the sky-soaring cliffs. Once you begin the return journey, the tour takes you to Thermopylae. This is the legendary site where the chosen 300 Spartans made their stand against the Persian army counting tens of thousands of troops.
Click here for more information and to book this tour.
How to get from Kalambaka to Meteora
Once you are in Kalampaka you can either take a taxi to the Monasteries, hike there, or do a guided tour. There are a few options available and I have done them all.
How many days do you need in Meteora?
You'll need to spend at least 3 days in Meteora to truly appreciate the spot. If you're not pressed for time, I would recommend you up to your duration to 6 or even 7 days to get the most out of the region.
How far is Meteora from Athens?
Meteora is about 222 miles (357 kilometers) from Athens. The travel time is 1 hour and a half by car from Athens. It is also accessible by air and bus.
Meteora Sunset tour it includes a visit to 1 or 2 monasteries and the sunset

Monasteries tour – it includes a visit to 3 monasteries

Hiking Tour– it includes a visit to 1 monastery
Where to stay in Meteora
Meteora is a UNESCO site and one of the most impressive tourist attractions in Greece. To benefit the most from your trip, you should plan to stay at least one night in Kalambaka. The town of Kalampaka is very interesting too and has some great places to eat as well.
Most of the hotels in Meteora are old, but there are a few ones I can recommend.
The Meteora Hotel at Kastraki is a beautifully designed hotel with plush bedding and a spectacular view of the rocks. It is slightly out of town, but within a short drive.

Check the latest prices and book Meteora Hotel at Kastraki.

The Hotel Doupiani House also has incredible views and is located steps away from the Monastery of Agios Nikolaos Anapafsas. It too is on the outskirts of town at Kastraki.

Check the latest prices and book Hotel Doupiani House.

The traditional, family-run Hotel Kastraki is in this same area, under the rocks in the village of Kastraki. It is slightly older than the two previous hotels but recent guest reviews confirm that it remains a comfortable and inviting place to stay.

Check the latest prices and book Hotel Kastraki.

In Kalambaka, the Divani Meteora is a comfortable and spacious hotel with an on-site restaurant and bar. They are located in the centre of town along a busy road, which may deter some people, but it's a convenient location to walk into town.

Check the latest prices and book Divani Meteora Hotel.
For more information check out my full guide to the monasteries of Meteora.
I hope this post has helped you visit the monasteries of Meteora from Athens. Just in case you have any questions leave a comment below or email me.
You might also be interested in:

The best day trips from Athens.

A day trip from Athens to Delphi.