Crete is one of the most enchanting places to visit in Greece and for good reasons. Not only is this island filled with history, but with stunning landscapes and unique culture. Because of its diversity, it can be difficult to choose things to do. Below you'll find some of the top activities and places you can explore when visiting this Greek island.
Disclaimer: This post contains affiliate links. This means that should you click on certain links, and then subsequently purchase a product, I will receive a small commission.
Best Things to Do in Crete by Region
Heraklion
If you enjoy history, you'll love Knossos. This is one of the largest archaeological sites in all of Europe that clearly displays the Bronze Age architecture and lifestyle. You can walk through this historic structure with a guide who will explain more about its history and importance in Greek culture and mythology.
Check out: Knossos Palace Skip-the-Line Entry with Guided Walking Tour.
2. Heraklion Archaeological Museum
This museum is one of the top places in the world to view Minoan art. Built in the 1930s, it holds many different archaeological treasures discovered in Crete.
3. Koules Fortress
The Koules Fortress is situated near Crete's old port and is known for being a former Venetian fortress when Venetians once ruled the island. It was designed to help soldiers keep a close eye on the island and protect it from possible invaders. You can take a tour of this fortress and see some of the former military weapons used, like cannons.
You might also be interested in: The best places to stay in Crete.
4. Archaeological Site of Phaistos
This archaeological site is one of the top places to visit in Crete to view artefacts from the Bronze Age. Located in southern Crete, Phaistos is a remarkable place to visit to view archaeological digs. You'll be able to view the Old Palace, where you can see ancient jars scattered around the site, and the New Palace. You can take tours of this site where you can walk up a historic staircase unearthed by archaeologists as you visit the New Palace.
5. Matala Beach
Matala Beach is a stunning beach to visit in Crete. Situated on the edge of a village, the beach features brown/white coloured sand and deep blue water which is bordered by towering white cliffs dotted with trees. You can relax on the beach, take a boat out to sea, or explore the cliffs which have carved caves in them while here.
6. Agiofarago Beach
This beach is known for its impressive boulders that feature beautiful designs in them and are topped with native trees and plants. The sand of this beach features a unique mixture of brown and white colors and the water is known for its soft blue tint. The beach also is home to a hidden lake, called Vourvoulitis, which can be found by climbing the cliffs. However, this lake is very dangerous to swim in so it's best to just look at it if you find it.
Acqua Plus Waterpark is a great place to visit if you're looking to have some fun or plan to bring kids along with you. It's one of the biggest waterparks in Crete and is divided up into two different sections which serve either adults or children. You'll find plenty of amazing waterslides and rides you can enjoy here as well as a few bars and restaurants you can grab a drink or bite to eat at. An admission fee is necessary in order to enter the park.
Check out: Hersonissos: Acqua Plus Water Park Entrance Ticket.
This aquarium in Crete is a great place to visit if you want to view exotic sea life. You'll find stingrays, red scorpionfish, sea turtles, and even a sand tiger shark here. Besides gazing at these remarkable sea creatures, you'll also be able to learn more about these species and their contribution to ocean health. Tickets are needed to get in and guided tours can be taken around the aquarium.
If you're looking for an unforgettable experience while in Crete, you'll want to consider taking a sailing trip to Dia Island. You can hop on board a boat that will take you across the tranquil sea to see this beautiful island. While travelling there, you might even come across some friendly dolphins. You can even go snorkelling and swimming near this uninhabited island once you reach it.
Recommended sailing trips to Dia island:

– From Heraklion: Morning Sailing trip to Dia Island
– From Heraklion: Afternoon Sailing Trip to Dia Island
Rethymnon
10. Rethymno Old Town
Rethymno Old Town is considered to be one of the best-preserved towns in all of Greece that shows the Renaissance style. This town features many elements of Venetian architecture, due to it once being under Venetian rule, as well as hints of Turkish architecture. You can walk along this historic town's narrow alleyways to gaze at the marvelous architecture featured. This town is part of a living museum so you can stop by and ask a guide any questions you might have about the place.
11. Arkadi Monastery
This Eastern Orthodox monastery is known for its stunning architecture and loud bells that ring out through the island. Built in 1587, this monastery is situated at the top of a large hill and was an important place for Greeks to hide during a Turkish siege on the island. You can walk around inside the monastery to view its incredible interior and take a stroll outside to see its courtyards that are filled with fragrant flowers and cypress trees.
You can also view the monastery's Refectory which is where many Cretans were murdered during the massive Turkish siege. You can view pictures of many of the people killed during it and learn more about them. If you look closely at the wooden benches and tables in the Refectory, you might also see sword marks left in them from this horrible event.
12. Eleutherna Archaeological Museum
The Eleutherna Archaeological Museum in Rethymno is a large museum dedicated to telling the story of ancient artefacts found on the island. It's located on the edge of an archaeological site as well, so once you're done exploring the museum and its treasures, you can take a stroll outside to see this excavation.
13. Melidoni Cave
Located near Rethymno, Melidoni Cave is one of the most beautiful and mysterious places to explore in Crete. You can walk in the cave and explore the various artefacts inside, many of which were unearthed during archaeological excavations. If you take a guided tour, you'll also learn about its tragic history, such as where many people were thrown into the cave and stranded inside. You'll find a small chapel near the entrance of it which is dedicated to those who died during this tragic event.
14. Preveli Monastery and Preveli Beach
The Preveli Monastery is a beautiful structure that is made up of two main parts: the Lower Monastery of St. John the Baptist and the Rear Monastery of St. John the Theologian. You can explore this historic structure, believed to have been built around 1594, which features mysterious pathways and stone staircases that you can climb up to reach certain parts of the monastery and get spectacular views of the nearby Preveli Beach. You'll also be able to visit the monastery's museum which is home to various artefacts found in the monastery, like paintings.
When you're done exploring the monastery, you can climb down to visit Preveli Beach. This beach is bordered by a forest and features large boulders scattered around on the shore. There's also a small stream that runs through the centre of the beach and out to sea.
You might be interested in: The best beaches in Crete
15. Anogia Village
Located in the mountains, Anogia Village is an interesting place to visit. Known for its rich history, the village is home to a stunning landscape that is filled with winding roadways you can travel down. The village is also home to many farms and shops where you can buy fresh cheese and wine while listening to musicians play traditional Cretan music. You can also stop by one of the many taverns which offer a delicious selection of native foods.
16. Spili Village
Spili Village is located at the bottom of Mt. Vorizis and is known for its farms. You can explore this village and see its many shops, taverns, and even unique structures, like numerous fountains which line the village and spurt out water into the air every hour. You'll also find some historic watermills you can see.
You might like: Top things to do in Rethymno
Chania
17. Chania Old Town
Chania Old Town is a lively place to enjoy Cretan culture and food as well as to get glimpses of amazing scenery. You can explore the Old Venetian Port and see its unique architecture as well as the towering lighthouse which you can climb up to get panoramic views of the sea and of the nearby White Mountains. In addition to this, Chania Old Town also features a Maritime Museum of Crete which houses many nautical artifacts that this town once used.
You can also visit the village of Chania and walk through the narrow alleyways paved between colorful houses which are lined with fragrant plants and sometimes even items you can buy. You'll also find some archaeological spots you can view. Once you're done, you can visit one of the many restaurants in the town that serve mouthwatering meals you can enjoy.
18. Frangokastello
Frangokastello is home to a massive castle and seaside village. Besides its beautiful beaches, it's well-known for its large Venetian-style castle that looks out to sea. You can explore this castle and even look to see if the legend of the Drosoulites ghosts is real. Once you're done exploring the castle, you can take a quick trip down to the beach and then stop by one of the local restaurants for a quick bite to eat.
19. Ancient City of Aptera
The Ancient City of Aptera is an archeological site located near Souda Bay. It was created during the Minoan era and is known for once being an important port city. This city was destroyed by a massive earthquake, but one major structure survived – St. John the Theologian's Monastery. You can buy a ticket so you can wander around this beautiful site and see old bathhouses, cisterns, and even a theater.
Elafonisi Beach is one of the most stunning beaches in all of Greece. The beach features a stunning mixture of white and pink sand that gives a beautiful contrast to the clear blue water of the sea. You can walk along the shore while gazing up at the massive mountains nearby as well as climbing up the boulders scattered around the sand.
Check out the recommended tour depending on where you are based:

– Day Trip to Elafonisi Island from Chania
– From Rethymno: Day Trip to Elafonisi Island
21. Seitan Limania (Stefanou) Beach
Seitan Limania Beach is a beautiful cove that is known for its unique rock formations and sea water warmed by the blazing Greek sun. The beach is known for having gravel mixed into its soft sand and is considered to be an excellent place to go diving in Crete.
22. Falasarna Beach
Falasarna Beach is located on the western side of Crete and is home to some ancient ruins you can explore, like the Greco-Roman City which was once an old port. The beach features clear and soft sand that is touched by turquoise-colored water. In addition to this, a wildlife refuge is located near this beach, so you might see some unique creatures stopping by.
23. Kedrodasos Beach
This beach is one of the most distinctive places in Crete. Unlike many other beaches on this island, Kedrodasos Beach features a rocky terrain that is lined with boulders, juniper trees, and massive sand dunes. The beach features small boulders which you can climb up on as you look out at its crystal clear waters.
You might also like: The best beaches in Chania.
24. Balos Beach and Gramvousa Day Cruise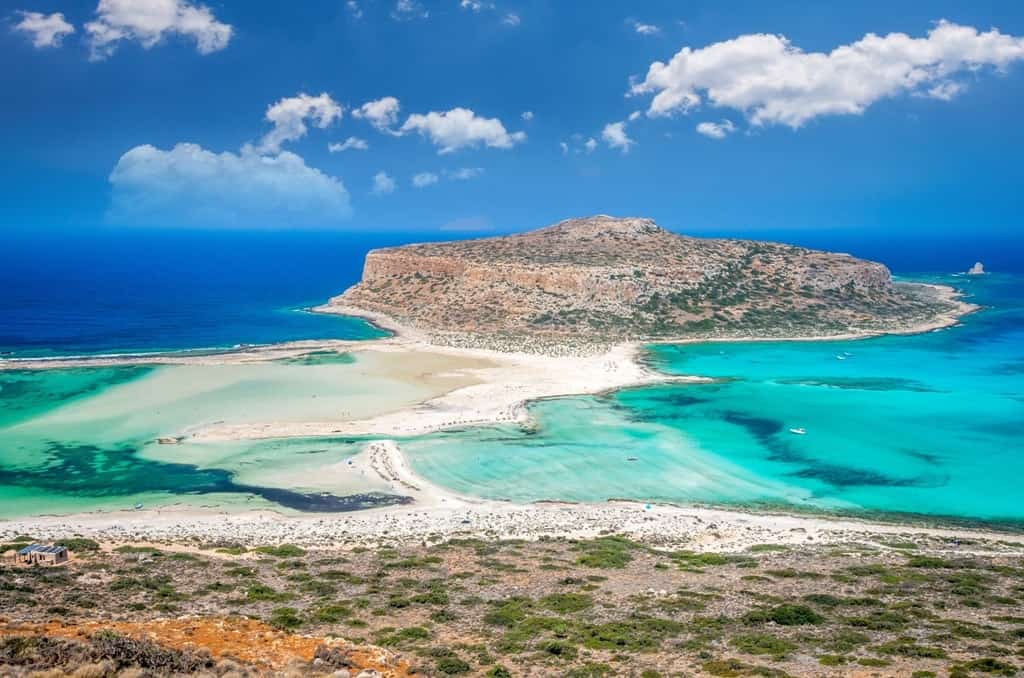 If you're looking to relax and unwind while in Crete, you should consider taking a Balos Beach and Gramvousa Day Cruise. You'll hop aboard a luxurious yacht that will leisurely take you around the northern part of Crete to see the Balos Lagoon and Gramvousa Island. At Balos Lagoon, you'll be taken through massive white cliffs while sailing down clear bluish-green waters.
At Gramvousa Beach, you'll see a spectacular landscape that shows its unique history thanks to the large shipwreck in the sea near it and small structures built on the top of the cliffs when pirates once roamed the land. You can get out and explore this island for a bit on foot with a guided tour or go swimming in the warm sea.
Recommended tours to Balos Beach

From Chania: Gramvousa Island and Balos Bay Full-Day Tour

From Rethymno: Gramvousa Island and Balos Bay

From Heraklion: Full-Day Gramvousa and Balos Tour

(please note the tours above don't include the boat tickets)
25. Hike the Samaria Gorge
The Samaria Gorge in Crete is one of the most stunning natural wonders on the island. It features massive boulders that are separated by crystal clear water flowing through them. You can hike through this incredible natural wonder, one of the longest gorges in Europe, and experience its beauty firsthand. You'll come across many colorful flowers, like the Dragon Arum flower which is a deep purple plant that grows along the forest floor.
The easiest way to hike the Samaria Gorge is with a guided tour that takes you from your hotel and returns you there after the hike. Check below my recommended tours depending on your location:

– From Chania: Full-Day Samaria Gorge Trek Excursion
– From Rethymno: Full-Day Samaria Gorge Trek Excursion
– From Agia Pelagia, Heraklion & Malia: Full-Day Samaria Gorge Trek Excursion
You might like: A complete guide to the Samaria Gorge
26. Imbros Gorge
Imbros Gorge is a magnificent canyon located in southern Crete. It is a great place for hikers and nature lovers to venture to thanks to its diverse pathways, plants, and wildlife. It is a very easy place to walk around in which makes it a popular destination for tourists.
27. Lake Kournas
Lake Kournas is located next to the village of Kournas and is a natural wonder that every nature lover certainly needs to see. As one of the only freshwater lakes in Crete, Lake Kournas is bordered by massive hills and features deep blue colored water that has a slight turquoise-tinted edge where the water meets the sand of the lake. You might come across some unique sea creatures in it as well, like eels and turtles. It's a great place to spend a day swimming or just relaxing.
28. Loutro Village
Loutro Village is a small place located near the Samaria Gorge. It's known for its historic homes, taverns, and ancient churches. While walking around the village you'll come across many unique shops and beautiful views you can gaze at thanks to the remarkable scenery around you.
One spectacular natural wonder you'll find here is the towering mountains that are known for ringing out soft bell-like sounds when the wind blows. No vehicles are allowed here, so you'll have to get around on foot wherever you want to go.
29. Sfakia Village
Sfakia Village is one of the most remote places in Crete as it can only be reached by boat. This fishing village is known for being very peaceful and for its rich history and stunning landscapes, like the Lefka Ori Mountains which are considered to be one of the best places to hike in the village. You can walk through the village and see the remaining structures in it, like churches, which survived World War II. You can also stop by one of the many cafes scattered around the village for a cup of coffee or fresh gyros.
You might be interested in: The best things to do in Chania
Lasithi
30. Explore Agios Nikolaos
Agios Nikolaos is a stunning place to explore in Crete. Situated near Mirabello Bay, Agios Nikolaos features many colorful villages you can walk around in as well as a few beaches you can explore. You can also hop on a ferry which will take you around the bay so you can get different views of this quiet seaside town.
31. Zakros Archaeological Site
The Zakros Archaeological Site features structures built during 1900 B.C. and is home to one of the largest palaces built during the Minoan period. It was once an important trading site on the island with merchants visiting it from all over the world. You can view the site with a guide and see artefacts like columns, a well, and even a cup of olives that were uncovered.
Check out my guide to Kato Zakros.
32. Vai Beach and Palm Forrest
Vai Beach is one of the only places in Europe that features a massive palm forest. You can relax on the warm sands of the beach while shading yourself under the numerous palm trees scattered around it.
33. Agia Fotia Beach
Agia Fotia Beach is yet another stunning beach located on this beautiful island. You can relax in its warm sand, go swimming in its clear seawater, or even hike over to the nearby butterfly gorge which features a waterfall.
34. Elounda Village – Lasithi
Elounda is a picturesque village located on the northern edge of Crete. You can visit this village and walk around the winding pathways that will take you by local homes as well as some shops and restaurants where you can find some souvenirs and try some native dishes. You can also walk down to the beach and watch the boats set sail out to sea.
35. Boat Tour to Koufonisi
A boat tour to Koufonisi is surely something that will take your breath away. You'll hop on board a local boat which will take you on a relaxing cruise through the sea until you reach this island. While at Koufonisi, you'll be able to enjoy the incredible beaches this island has to offer.
36. Spinalonga Boat Trip
Spinalonga, also known as Kalydon, is a small island near Crete that is filled with ancient fortresses and structures. A boat trip from nearby Elounda or Agios Nikolaos will take you to this island where you can go and explore this unique place for yourself.
Check out: From Agios Nikolaos Guided Boat Cruise to Spinalonga.
37. Day Trip to Chrysi Island
Also known as Chrissi Island, Chrysi Island is a large wildlife refuge that is home to various types of native Greek animals and plants. The island is known for its waters that feature various shades of blue and its golden sand that has massive trees growing in it.
With a guided tour, you can hike through the Chrysi Island forest where you'll see cypress trees and even a rare type of Lebanon cedar. In addition to this, you'll also be able to hike up colorful boulders that feature colors like red and black, and if you look closely, you'll be able to see fossils in them.
Recommended: From the Heraklion Area, Day Trip to Chrissi Island.
You might also want to check: Things to do in Lasithi, Eastern Crete.
Around Crete
38. Wine Tasting
Wine is an important part of Cretan cuisine, so a wine tasting is a great thing to do while on the island. There are many vineyards scattered around on the hills you can visit to try some different types of wines, like Syrah, Vilana, and Liatiko, which are found nowhere else in the world except on this island.
39. Olive Oil Tasting
A trip to Crete wouldn't be complete without an olive oil tasting. There are plenty of olive farms you can visit to try olives from some of the oldest olive trees in the world which are known for their unique flavor.
40. Cooking Class – Cretan Food
If you want to explore more behind the mouthwatering dishes of Crete, you can take a cooking class! There are plenty of cooking classes you can take that will teach you the history behind these native dishes and how you can make them yourself. You'll learn how to bake bread, use locally grown herbs and vegetables, and how to press olives to make fresh olive oil. Some tours even will take you into villages where you can meet local chefs and learn their cooking secrets.
41. Horseback Riding
There are many horseback riding tours you can find in Crete. On them, you'll be able to take seaside walks, climb up mountains, and even go through villages. Many rides include various difficulty levels, so if you're not the most experienced with horseback riding, but still interested in trying it out, you'll be able to find a beginner's horseback riding level you can partake in.
42 Try Water Sports, Scuba Diving, and Paddleboarding
If you're someone who wants to stay active while here or wants to connect better with nature, what's a better way to do so than to get out in the water and do some fun activities. You can rent some jet skis, water tubes, and paddleboards you use. Many tours are also available where you can rent a boat which will take you out to sea so you can go scuba diving.
43. Gavdos Island
Gavdos Island is home to an interesting history as it was once the spot where pirates roamed and shipwrecks occurred. It's known for its beautiful landscape which features pine trees, juniper, and rocky cliffs that extend out to sea.
44. Day Trip to Santorini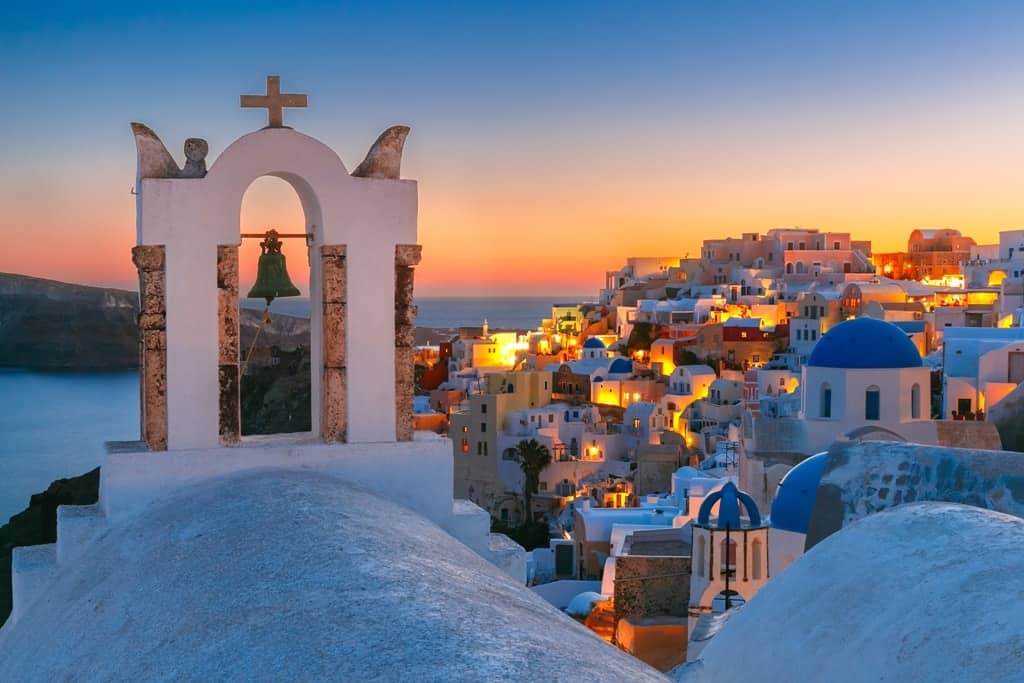 The island of Santorini is just a quick boat trip away from Crete. You can explore this colorful island that sits in the middle of the Aegean Sea and experience its rich history, stunning beaches, and amazing natural landscapes.
Recommended tours to Santorini depending on where you are based:

– From Rethymno or Agios Nikolaos: Day Trip to Santorini
– From Chania: Full-Day Trip to Santorini
You might also like: Things to do in Santorini
Crete is a remarkable place that everyone should definitely consider visiting at least once. It's filled with tranquil beaches, historic towns, amazing museums, and delectable native dishes. Time will fly while you're here and you'll find yourself wanting to stay on this gorgeous island forever.